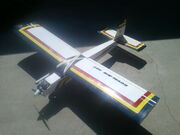 When it comes to purchasing many people from all levels of R/C airplanes from beginner to experienced 3D pilots have to make the decision on to wether buy and airplane that is "Ready to Fly" or "Almost ready to Fly". Hopefully this page can help some people make a decision on which is perfect for them.
Introduction
Edit
RTF or ready to fly is suggested for all levels but this may appeal to beginners. A RTF airplane is complete inside the box but it may need charging and the wings need to be attached to the fusalage. This is the cheapest option because you would not need to purchase the parts to build it. On the other hand an ARF plane would mostly appeal to more experienced pilots looking for a more personalized airplane. ARF'S can come similar to RTF airplanes but they need to be installed with a engine servos and a radio system and all other accesories needed for the engine. An ARF plane can also come in a kit which the most experienced pilots love as a project. The kit is balsa that is not assembled yet so it does not resemble an airplane yet. The pilot will have to follow the plans and dimensions so that the airplane will fit together properly. Then the pilot will be able to personalize the airplane any way he wants when he puts the monocoat over the balsa and then put all the parts like the engine, servos and other necessary parts needed. Hopefully this helped you decide wether or not to purchase an RTF airpane or an ARF airplane.
Ad blocker interference detected!
Wikia is a free-to-use site that makes money from advertising. We have a modified experience for viewers using ad blockers

Wikia is not accessible if you've made further modifications. Remove the custom ad blocker rule(s) and the page will load as expected.