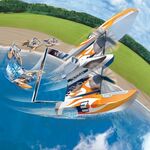 The Air Hogs Stormlauncher is a unique, electric-powered all-terrain radio controlled model manufactured and distributed buy Air Hogs, a division of Spin Master of Toronto, Ontario, Canada.
Released in extremely limited numbers in July 2006 with slightly more scheduled for limited release in regular discount retail outlets in August 2006 with widespread distribution by September 2006, the "Hydro-Foam" Stormlauncher resembles a catamaran-hulled hydrofoil with twin forward-facing propellers. Unlike a hydrofoil which would naturally be limited to operation solely on water, the Stormlauncher may be operated as a surface vehicle on pavement, short grass or snow. The model is also capable of aerobatic flight and will launch either from ground or from water.
Since the Stormlauncher is intended for a more widespread audience than would normally be expected of a hobby-grade product, the model comes fully assembled and ready to run less the required 740mAh 2S lithium polymer battery and charger.
A free, downloadable simulator is scheduled to be added to Air Hogs' website.
This toy R/C was based on a model called the Hydro-Foam and used with permission. The original used a single brushless motor, elevons and rudders. It could climb vertically, loop, roll, hover and run on water, grass or hard surfaces. A video of this was first published on RC Groups and caused great excitement, followed by many people attempting to make their own from scratch. A free plan of one of these copies was published and it wasn't long before kits started appearing on eBay and more reputable model manufacturers developed their own versions that weren't simple clones. However, the Hydro-Foam was not an easy model to design or fly nor were the free plans were not a guarantee of success, especially as the design attracted many people who were new to R/C flying and who expected to be able to fly like the model depicted in the video. Many of the copies could not be made to work well and the Depron used did not stand up to many crashes. The craze died down over a few months. Back on RC Groups, the attempt to improve the design was often swamped by those arguing about the copyright.
In order to properly bring the model to market and to do so to a wide audience, the original designers worked with Air Hogs in the design and production of the Stormlauncher.
Specifications
Edit
Length: 51cm (20")
Width: 39.4cm (15.5")
Height: 16.5cm (6.5")
Operating weight: 270g (10 oz)
Battery: Air Hogs 7.4v 2S 740mAh lithium polymer or equivalent
Radio: Fully proportional three-channel with "beginner" and "pro" control surface throw rates
Operating frequency: 27 MHz
Range: 91m (300')
Construction material: EPP composite foam
Motors: Dual 180-series with puller propellers
External links and references
Edit
Ad blocker interference detected!
Wikia is a free-to-use site that makes money from advertising. We have a modified experience for viewers using ad blockers

Wikia is not accessible if you've made further modifications. Remove the custom ad blocker rule(s) and the page will load as expected.