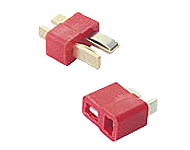 The Deans Ultra-Plug or "Deans connector" is a low-resistance, high-quality, polarized electrical connector specifically designed for radio control use. The connector and its variants get their widely accepted nickname because of the name of their manufacturer, W.S. Deans of Los Alamitos, California USA.
Resistance of the gold-and-silver plated, spring-loaded contacts is so minimal that a Deans connector is claimed to be able to flow more current than if the wires were soldered together. It is often used as an alternative for or outright replacement of the so-called Tamiya connector.
External link
Edit
Ad blocker interference detected!
Wikia is a free-to-use site that makes money from advertising. We have a modified experience for viewers using ad blockers

Wikia is not accessible if you've made further modifications. Remove the custom ad blocker rule(s) and the page will load as expected.