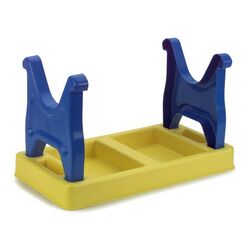 Ernst Manufacturing, Incorporated of Boring, Oregon, USA is primarily a manufacturer of tool organizers for automotive mechanics. The company makes a number of products for model railroading, R/C boats and R/C aircraft as well. Ernst Manufacturing was founded in 1983.
The product possibly of greatest interest to R/C aircraft hobbyists is the Ernst Ultra Stand. This is a three-piece, injection molded plastic cradle designed to hold R/C airplanes for storage, construction, repair and transport. It will hold most planes from a park flyer-sized model up to about a .60 sport or trainer. The base doubles as a parts tray; a transmitter and charger each fit within as do batteries for some electric aircraft on the outside edges of the tray. Soft, thick foam rubber strips inside the saddles of the cradles and which run along the entire top edge of each cradle prevent damage to the model.
Other R/C aircraft accessories include pushrod guides, tailwheel brackets and linkage retaining clips. Some Ernst R/C products are distributed through Horizon Hobby and all are made in the USA at their facility in Boring.
External link and xreference
Edit