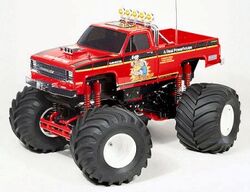 A radio controlled monster truck is a model that features large, wide tires, exceptionally long suspension travel, a truck body and, depending on the individual model, four wheel drive. They are patterned after the full-sized exhibition vehicles of the same name.
Examples both past and present include:
See also: Big block Nitro Stampede
Ad blocker interference detected!
Wikia is a free-to-use site that makes money from advertising. We have a modified experience for viewers using ad blockers

Wikia is not accessible if you've made further modifications. Remove the custom ad blocker rule(s) and the page will load as expected.