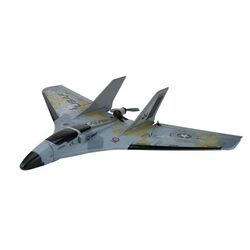 The ParkZone™ F-27B Stryker is an electric-powered, high-performance RTF delta wing foam aircraft designed and distributed by ParkZone, a division of Horizon Hobby.
This fully aerobatic model, introduced in August 2005, is an updated version of the F-27 Stryker, a part of ParkZone's original model lineup.
The original Stryker proved to be popular with those wishing to create high-performance delta wings to the point where many modelers simply purchased the off-the-shelf replacement airframe parts with the intention of adding their own electronics. It is not uncommon for a modified Stryker to reach speeds of 100 mph (160km/h). Horizon Hobby responded by creating a vastly improved RTF model right out of the box as well as an available factory-assembled ARF sold with the new improvements but less electronics.
Improvements include a one-piece "Z-Foam" wing which can be repaired with any cyanoacrylate adhesive, a propeller suitable for use with lithium polymer batteries, vented battery and electronics compartments and strengthened elevon hinges. Dual-rate control throws, switchable during flight at the transmitter, allow for either relaxed or aggressive flight. Proper voltage cutoff for lithium polymer use is accomplished by simply removing a jumper on the receiver's printed circuit board.
Like all ParkZone models, the F-27B Stryker comes almost fully assembled and with all necessary equipment, including transmitter batteries. Horizon's optional Sonic Combat Module™ (HBZ4020) allows dogfighting between similarly equipped aircraft via the receiver's "X-Port" feature.
A new variant was introduced in June 2006. Dubbed the F-27C Stryker, it comes factory equipped with an E-flite brushless motor system and lithium polymer battery. Top speed is drastically increased to approximately 80 mph (130 km/h).
Specifications
Edit
Wingspan: 37" (950mm)
Length: 27" (700mm)
Flying weight: 21 ounces (580g)
Motor: Direct drive 480 with flux focus ring, pusher configuration
Radio system: Three-channel proportional FM
Operating range: 2500' (762m)
Operating frequencies: All six allocated to the 27 MHz band
Trim scheme: Grey fuselage, grey/olive drab/black camouflage, black/grey decals
Speed control: Fully propotional ESC/receiver combination
Battery: Seven-cell 8.4V 900mAh Ni-MH (included); 2100mAh 3S lithium polymer optional
Charger: 1.2A variable rate DC peak detect
Landing gear: None
Retail price: US$199.99
Catalog number: PKZ1200
F-27C specifications
Edit
Motor: 1880Kv direct drive brushless
ESC: E-flite 25A brushless
Battery: Three-cell 11.1V 2200mAh lithium polymer
Charger: Two- to three-cell li-po DC variable rate with balancing
Radio: 72MHz FM with industry-standard three-wire servos
Trim scheme: "Tiger Meet" custom paint and decals
Catalog number: PKZ4200
External link and reference
Edit
Ad blocker interference detected!
Wikia is a free-to-use site that makes money from advertising. We have a modified experience for viewers using ad blockers

Wikia is not accessible if you've made further modifications. Remove the custom ad blocker rule(s) and the page will load as expected.