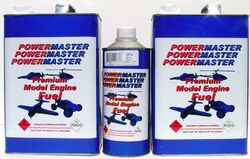 Powermaster Hobby Products, Incorporated of Elgin, Texas, USA is a manufacturer of their own line of premium car, airplane, helicopter, boat and control line fuels. The company is also an original equipment manufacturer for a number of brands including Traxxas Top Fuel.
The company was founded in California and relocated to its present facility in 1994. Local resident Shirley Hammond, the wife of avid modeler and longtime Union Carbide employee Wendell Hammond, was employed by the company soon after the relocation. Hammond was named general manager in 1997 and manufacturing rights to the Powermaster® line of model products were sold to the Hammonds in 1998.
Powermaster's exclusive PWRPAK additive is standard in all fuels. The additive, six months in development, is claimed to have superior anti-corrosion and anti-foaming protection. The company also claims reduced friction, higher RPMs and lower operating temperatures with PWRPAK fuels.
Powermaster is the official sponsor of the fuel discussion forum at rcuniverse.com.
External links
Edit
Ad blocker interference detected!
Wikia is a free-to-use site that makes money from advertising. We have a modified experience for viewers using ad blockers

Wikia is not accessible if you've made further modifications. Remove the custom ad blocker rule(s) and the page will load as expected.