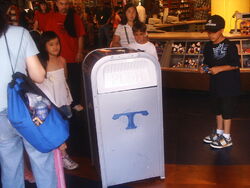 Push the Talking Trash Can is a radio controlled robot which makes occasional rounds throughout Tomorrowland inside the Magic Kingdom theme park at Disney World, Orlando, Florida USA and more recently at Disneyland theme park, Anaheim, California USA. Push has recently been spotted in The Grizzly Peak Recreational Area in Disney's California Adventure.
WARNING: Spoilers follow
Push is an actual Tomorrrowland trash bin and is so named because of the large word "PUSH" found on either flap. The radio control system is hidden by the bin's regular steel liner and plastic trash bag should a guest peer inside.
The robot is discretely operated by a "cast member" in plain clothes who operates the direction of the robot and provides its voice. The transmitter is hidden inside a large gym bag. A voice processor changes the operator's voice to a high-pitched, nasal register. Since the operator is so close to the robot, he/she is able to make Push interact directly with guests.
Exact technical details are uncertain, but the robot appears to be propelled with the transmission, wheels and tires of a mobility scooter, the type of which Disneyland and Disney World rent in large numbers.
External link
Edit
Ad blocker interference detected!
Wikia is a free-to-use site that makes money from advertising. We have a modified experience for viewers using ad blockers

Wikia is not accessible if you've made further modifications. Remove the custom ad blocker rule(s) and the page will load as expected.