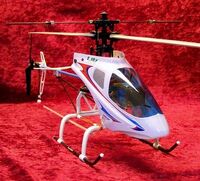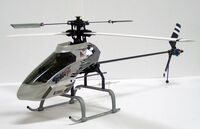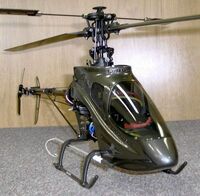 SuperSkids are upgraded, aftermarket landing skids for most micro-sized R/C helicopters.
Designed to strengthen the airframe as well as to greatly reduce the chance of breakage, SuperSkids are constructed of composites and aluminum. Thin steel braces triangulate the frame to the tail boom and add a horizontal stabilizer in much the same way as found in larger R/C helicopters and a horizontal antenna tube eliminates the need to completely wrap the antenna wire around the skids. A vertical stabilizer which mounts just ahead of the tail rotor (not shown) is included as well.
The online company, founded by a group of engineers and R/C enthusiasts, specializes in lithium polymer batteries, chargers, Titanium tail booms and their own line of upgraded main rotor blades for fixed-pitch micro-copters as well. They claim that SuperSkids will soon pay for themselves in the savings enjoyed by not having to constantly replace landing skids, a notoriously weak spot in helicopters like the E-flite Blade CP, E-Sky Honey Bee and Walkera Dragonfly.
The latest revision of the product (Rev.3 introduced in Aug. 2006) adds a wider stance which allows for large battery packs, improved mounting tabs for Dragonfly airframes, improved silicon tubing, improved tailfins with a faux carbon fiber finish and "smoked chrome" anodized aluminum skids printed with the SuperSkids logo. All authentic SuperSkids Landing Gear will have this logo. Modelers can choose from either black, black/silver combination, or white SuperSkids; the white version can easily be dyed with ordinary Rit fabric dye.
In the Summer of 2007, SuperSkids introduced SuperSkids3D to compliment their line of landing gear. This lighter version of SuperSkids is designed for pilots that perform aerobatic (3D) flight maneuvers. Finally, in Dec. of 2007 the company introduced SuperSkids400 for 400/450 size helicopters like the Align T-Rex, Esky Belt CP, E-flite Blade 400 and some 300 size helicopters like the Honeybee King 2 and Axe CP. These are the only landing gear to feature a passive suspension system.
External link and reference
Edit
Ad blocker interference detected!
Wikia is a free-to-use site that makes money from advertising. We have a modified experience for viewers using ad blockers

Wikia is not accessible if you've made further modifications. Remove the custom ad blocker rule(s) and the page will load as expected.