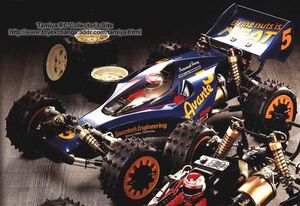 The Tamiya Avante is a historically significant 1/10 scale 4WD electric offroad competition buggy released in the late 1980s as Tamiya's 72nd R/C kit under catalog number 58072.
Although Tamiya had all but singlehandedly invented the market for 1/10-scale electric offroad, the company had fallen significantly behind in the development of serious race cars such as those from manufacturers Yokomo, Kyosho and Associated Electrics.
Starting with a new and somewhat radical design, Tamiya chose to create the Avante from aluminum and fiberglass-reinforced plastic composite as opposed to the ABS resin used in their previous offerings. It was also intended to be more tunable and adjustable than any other car on the market with its combination of a stiff composite chassis, oversized and tunable aluminum shocks and adjustable upper turnbuckles which allowed for changes in toe and caster.
Despite the seemingly winning combination of stiffness plus near-infinite adjustability, the Avante suffered more than its share of problems. Aluminum parts were easily broken, the front suspension had a tendency to bottom out on jumps and even the handling was subpar when compared to its competition. In a model with a retail price of US$300, these faults were not easily overlooked by racers and sales suffered badly.
Overall, the Avante did advance the technology of 4WD offroad racing with its innovative use of exotic materials, ease of assembly and groundbreaking design features such as its motor mounted amidships and parallel to the driveshaft, its use of foam inserts in the tires to increase stiffness and ball differentials, all standard fare on today's models. The Avante's basic design was used in future Tamiya offerings less the exotic materials.
Today, the Avante is a highly sought-after collector's item, with new-in-box examples demanding more money than many other collectible Tamiya cars of the period.
A competitive new sport/racing model, the Avante Mk. II, is based on Tamiya's DF-03 monocoque chassis and is topped with a Lexan body evoking the original car.
Specifications
Edit
Specifications
Edit
Scale: 1/10
Chassis construction: Two-piece FRP composite "sandwich"
Transmission: Four-wheel-drive via a solid shaft, ball differentials
Suspension: Four-wheel independent
Shock absorbers: Aluminum, oil-filled, fully adjustable
Motor: Mabuchi RX-540VZ "Technigold" (optional in some kits, especially in North America)
Tires: Rubber pin spike off-road tires with foam inserts front and rear
Original Tamiya catalog number: 58072
External links and reference
Edit
Ad blocker interference detected!
Wikia is a free-to-use site that makes money from advertising. We have a modified experience for viewers using ad blockers

Wikia is not accessible if you've made further modifications. Remove the custom ad blocker rule(s) and the page will load as expected.