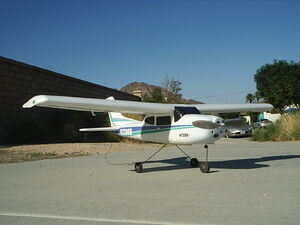 The UltraFly Cessna 182 is a foam park flyer-sized R/C airplane manufactured by UltraFly Model Corporation of Taiwan and distributed by Great Planes Model Manufacturing.
The model, an ARF kit, is somewhat unique since it comes with two separate, fully reinforced wing kits. On the "beginner" wing, the Cessna 182 can be set up as a relatively docile, 25 mph/40 kph aileron trainer with the use of the stock electrics. The "advanced" wing coupled with more powerful electrics turn it into a fast, fully aerobatic sport plane. Either wing can be built with or without flaps.
The so-called beginner wing has a relatively flat airfoil, slow stall speed and thick leading edge for stability while preventing inverted flight and the possibility of a crash by an inexperienced pilot. The nearly identical-looking advanced wing features a semi-symmetrical airfoil and thinner leading edge. This combination, in conjunction with the proper propeller, speed control and battery, allows full aerobatics and will double the Cessna's airspeed to nearly 50 mph/80 kph. Slow speed characteristics are similar to those of the beginner wing. Depending on preference, skill and the surface of the field, the 182 can be built with tricycle landing gear and steerable nosewheel per the prototype or as a taildragger less the nosewheel in the style of the Cessna 180. However, this configuration does not allow the model to be taxied.
It is strongly recommended not to modify the 182 beyond the factory's suggestions due to the possibility of sudden and unexpected failure of the wing at the trailing edge near the hold-down screw after repeated flights. The foam in this area is quite thin and unreinforced and will weaken under the strain. It may weaken under normal conditions as well. Either wing is available as an inexpensive service part and is easily constructed should one wish to replace the wing as a precautionary measure or as a part of regular maintenance.
Specifications
Edit
Wingspan: 43" (1090mm)
Wing area: 323 sq in (21dm2)
Ready-to-fly weight: 27 oz (770g)
Wing loading: 12 oz/sq ft (37g/dm2)
Length: 33" (840mm)
Minimum requirements for completion: 3-5 channel aircraft radio with 4 micro servos, ESC (20-amp minimum), 8-cell/1100mAh nickel metal hydride battery, suitable charger
Catalog number: UFLA1000
External link and reference
Edit
Ad blocker interference detected!
Wikia is a free-to-use site that makes money from advertising. We have a modified experience for viewers using ad blockers

Wikia is not accessible if you've made further modifications. Remove the custom ad blocker rule(s) and the page will load as expected.