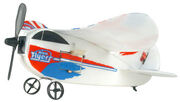 Where can I purchase and how much???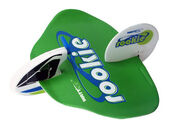 Watt-Age® Micro Flyers™ are the world's smallest mass-produced radio controlled aircraft. They are marketed by Watt-Age, a division of Global Hobby Distributors of Fountain Valley, California, USA.
Designed both for beginners and advanced hobbyists, the highly maneuverable foam Micro Flyers may be flown both indoors and out. Their 150mAh lithium polymer batteries are charged with the combination two-channel transmitter and charger. Flight times are approximately six minutes on a single charge.
Unlike "toy-grade" aircraft, the Watt-Age Micro Flyers are fully supported with a line of replacement parts.
The original Micro Flyer is a standard high-wing layout while the Rookie is a semi-delta flying wing with pusher prop. Both feature one-piece, airfoil wings. Polyhedral, or upward-turning wingtips, allows for operation on only two channels, namely rudder and throttle.
Specifications
Edit
Wingspan: 9"/23cm
Length: 8"/20cm
Flying weight: 1 oz/28g
Range: 100'/30m
Catalog numbers (Micro Flyer/Rookie): 157100/157105
How expensive are these models and where can I buy them
External links and references
Edit